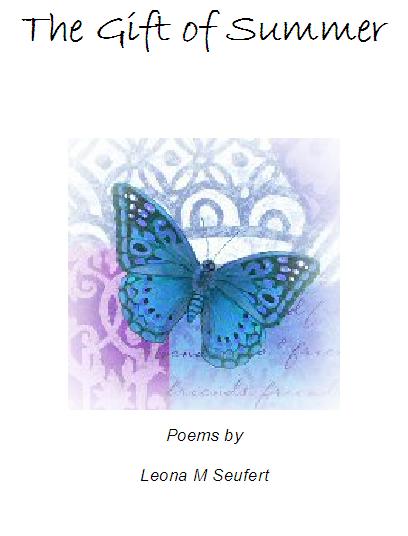 <![if !supportLineBreakNewLine]>
<![endif]>
Summer is the season I love the most with its parade of birds, butterflies, and small creatures. A time when I can enjoy cool mornings outside, BBQs alone or with friends, trips to the shore, and thunderstorms.
<![if !supportEmptyParas]> <![endif]>
The 11 poems in this chapbook were written for reading at the annual St. Anthony's Feast in June, at Church of the Assumption, Roselle Park, NJ. I've read them for the last 4 Summers and now wish to share them with a wider audience. So, here is my gift of Summer to you!
<![if !supportEmptyParas]> <![endif]>
<![if !supportEmptyParas]> <![endif]>

A World Without Ice Cream

<![if !supportEmptyParas]> <![endif]>

A world without ice cream

Is like a life without a kiss

A heaven sent experience

Too good to miss.

<![if !supportEmptyParas]> <![endif]>

If ice cream were missing

What would be cool

To eat on a hot afternoon

By the swimming pool?

<![if !supportEmptyParas]> <![endif]>

When winter arrives

Don't give up the treat

Sit in your igloo

An Eskimo pie do eat.

© 2014 Leona M Seufert

<![if !supportEmptyParas]> <![endif]>
12 pages
$6 (includes shipping)
Make check payable to: Leona M Seufert
Include an e-mail address for notification of receipt of check
Send to:
22 E Westfield Ave
Roselle Park, NJ 07204
Book ships within 1 week