<![if !supportEmptyParas]> <![endif]>
<![if !supportEmptyParas]> <![endif]>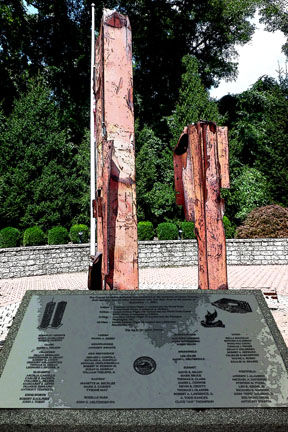 "Splinters of Grief" – Union County NJ, Echo Lake Park
<![if !supportEmptyParas]> <![endif]>
<![if !supportEmptyParas]> <![endif]>
<![if !supportEmptyParas]> <![endif]>
<![if !supportEmptyParas]> <![endif]>
<![if !supportEmptyParas]> <![endif]>
<![if !supportEmptyParas]> <![endif]>
<![if !supportEmptyParas]> <![endif]>
<![if !supportEmptyParas]> <![endif]>
Art that elevates the soul...art that addresses issues in this world using materials and ideas that enhance and uplift the viewer...my mission as an artist is to transport you out of this sometimes depressing and drab existence and into a world of beauty, positive emotion, and wonder.

I work in many different media: words, computer generated art, photography, and jewelry.

I developed this website because I believe art should be shared. Return often, you never know what you may find!
_____________________________________
<![if !supportEmptyParas]> <![endif]>
"Journey Through Remembrance – NJ 9/11 Memorials" exhibit
Casano Community Center Art Gallery
October  21 – December 12, 2014
Reception Wed Nov 19, 2014, 6:30 – 8PM
In this solo exhibit, I have taken photographs of 9/11 Memorials in towns around New Jersey. They then were developed into montages including images of the Twin Towers, the NYC 9/11 Memorial, and the newly built WTC1 tower.
314 Chestnut St.
Roselle Park, NJ
908-245-0666
_____________________________________
Be sure to visit "Digital Gems",
my gallery of handcrafted jewelry
<![if !supportEmptyParas]> <![endif]>
<![if !supportEmptyParas]> <![endif]>
<![if !supportEmptyParas]> <![endif]>
<![if !supportEmptyParas]> <![endif]>
<![if !supportEmptyParas]> <![endif]>
<![if !supportEmptyParas]> <![endif]>
<![if !supportEmptyParas]> <![endif]>
<![if !supportEmptyParas]> <![endif]>
<![if !supportEmptyParas]> <![endif]>
nn
<![if !supportEmptyParas]> <![endif]>
To contact me e-mail: Studio-L@att.net
© 2007, 2008, 2009, 2010, 2011, 2012, 2013, 2014  Leona M Seufert
Last updated10/3/14